Additional Products from Top Deck
Breeo Smokeless Firepits
Smokeless fire pits are designed to increase airflow, allowing more oxygen into your fire pit to burn off the smoke before it leaves.
How it Works
Fires are made when quality fuel, sufficient heat, and oxygen meet. Smoke is the result of an imbalance in one or more of those elements. Breeo fire pits are designed to provide plenty of oxygen, allowing for a hotter fire that burns its own smoke before it has the chance to escape the fire pit.
Why Choose Smokeless?
Breeo pioneered smokeless fire because you deserve to relax without drawbacks. You shouldn't have to fight tears as you roast marshmallows. Gone are the days of smoky-smelling clothes. At Breeo, they think it's time you get to enjoy the warmth and aroma of real, wood-burning fire unhindered by smoke.
Siding & Guttering
From energy-efficient vinyl siding and innovative composite cladding solutions to the decorative accents that create a custom style, we believe the ideal home is a welcoming space… uniquely revealed in the spirit of you.
Products Available:
Composite Cladding
Insulated Vinyl Siding
Vinyl Siding
Specialty Siding
Steel Siding
Soffit
Gutters and Downspouts
Trim and Decorative Accents
New Castle Steel Deck Framing
When planning a new deck, it's essential to invest in a substructure that can guarantee safety and stability through decades of outdoor conditions. New Castle Steel offers unparalleled performance characteristics that meet the demands of contractors and end-users looking for durable, safe, and sustainable steel deck systems.
DURABLE
Triple-coated to stand the test of time without shifting, splitting, warping, rotting, or rusting.
Precise engineering ensures surfaces remain flat.
It is lightweight and easy to work with, but its unparalleled strength enables cantilevers and contemporary curved deck designs.
This non-combustible material has a Class 1A fire rating and is rot- and termite-proof.
SAFE
New Castle Steel is explicitly designed for the outdoors and code-listed for exterior use, supported by the CCRR-186 code compliance research report.
All New Castle Steel products are engineered with every detail in mind, held to industry-leading standards, and protected by our 25-Year Limited Residential Warranty to prove it.
SUSTAINABLE
New Castle Steel contains 25% recycled American-made steel and is 100% recyclable, contributing to LEED points for building projects.
Chemical-free, kinder to the earth than pressure-treated lumber.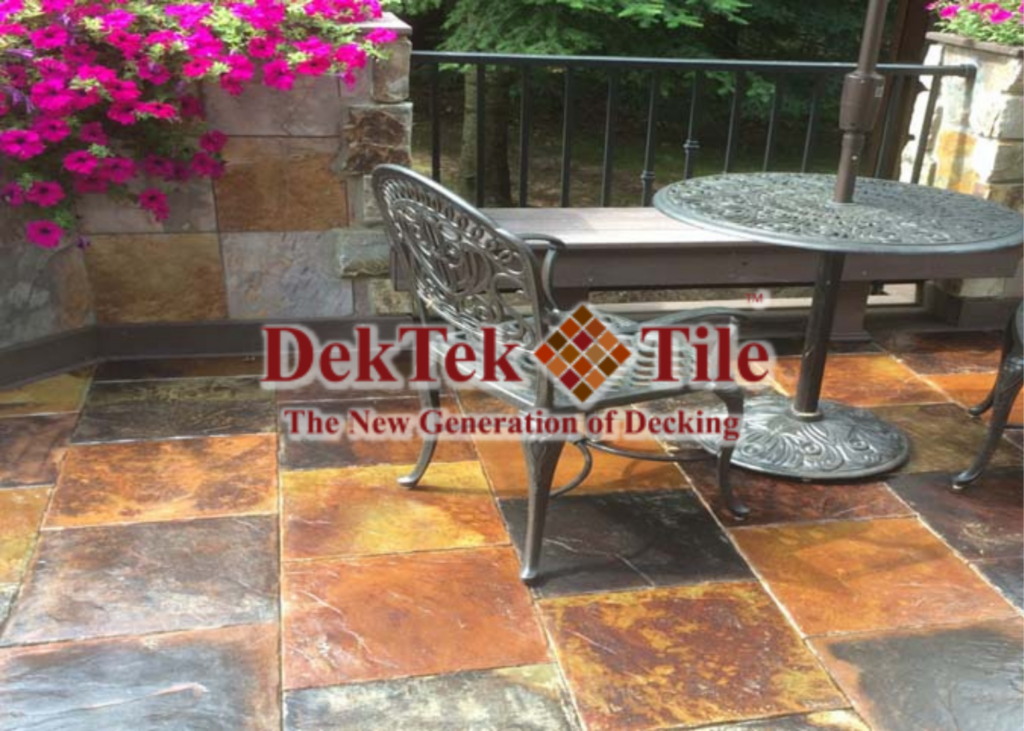 DekTek Tile
DekTek Tile is changing the way outdoor living is done, bringing a warm indoor elegance to your outdoor living spaces. The beautiful hand-crafted precast concrete deck tiles are designed for elevated decks and roof decks, but adds a taste of class and elegance to all your outdoor living applications. DekTek's tile decks are transforming the outdoor living industry, leaving customers with gorgeous tile decks to prove it!
DekTek Tile is a vibrant upscale alternative to standard decking materials. With its striking appearance & unique innovative design, there is no other decking material on the market that looks as stunning as a DekTek Tile deck. The elegance of the concrete tile creates a luxurious ambiance that transforms your outdoor living space.
Ultra-Low Maintenance
Non-Combustible
No Substrates or Heavy Duty Framing
No Fading
More Durable & Weather Resistant
Made in the USA
Toja Grid
With a simple approach to style and design, Toja Grid DIY Modular Pergola and Bracket system accommodates any size, space or budget with endless possibilities. Toja materials and manufacturing practices ensure quality craftsmanship and are built to last.
Modular
Quick Installation
Strong & Durable